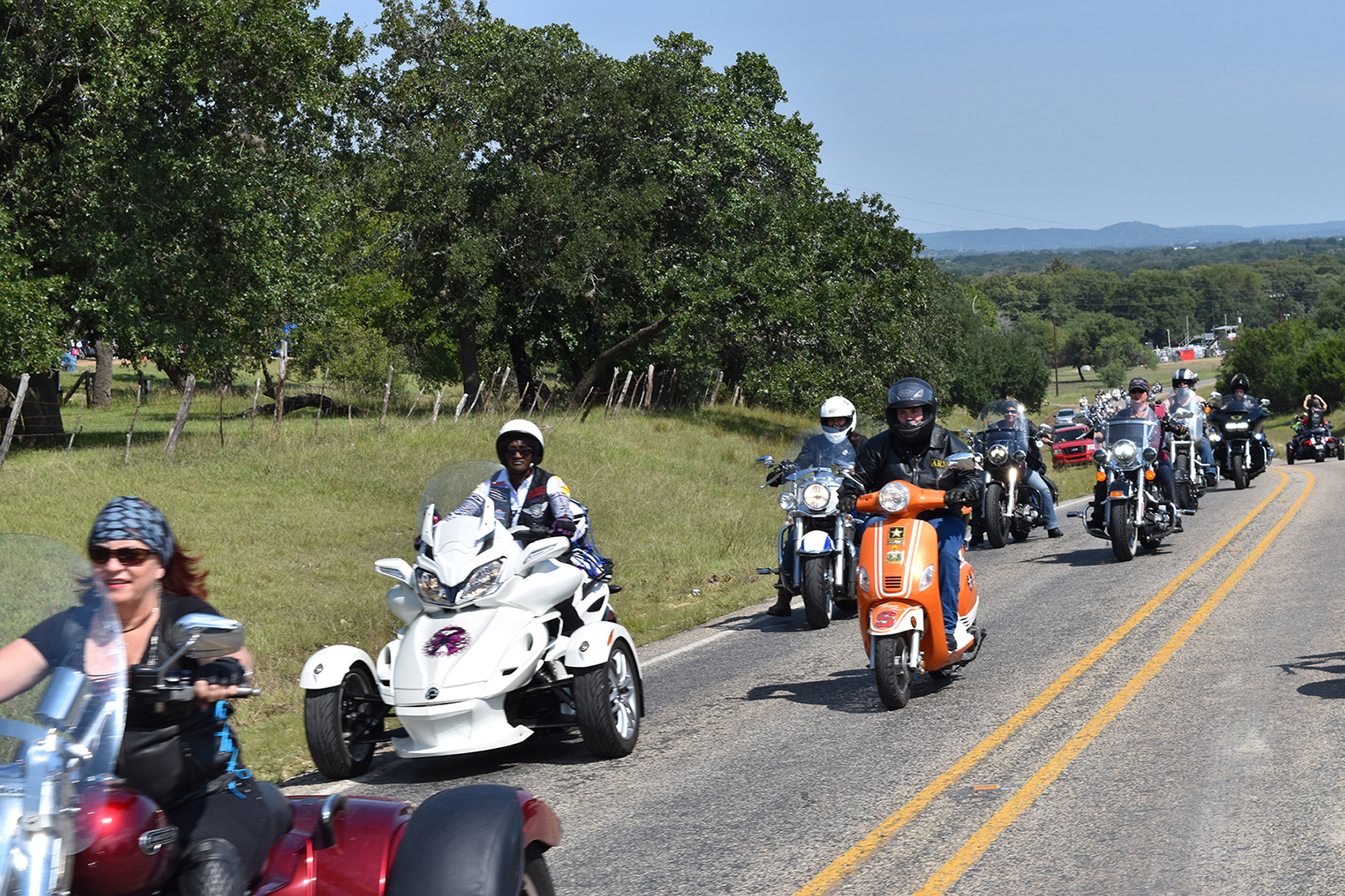 By Anne Heinen. Photos By Kathy McFarland.
Neither rain nor mud nor husbands kept hundreds of women riding on a variety of vehicles—including Harley-Davidson Softails and Tri-Glides, to Slingshot roadsters and even scooters—from the second Lace, Grace & Gears (LGG) Rally, held in late September in Bandera. The action-packed, four-day event drew female riders (and some guy companions) from as far away as Australia, California, Michigan, and, of course, all points of Texas, for sisterhood and good times with the wind in their hair.
"This was the best rally I've ever been to," said Tonya Spells, who rode her Harley Softail from Cibolo, Texas. "I was able to connect with other women like me—decent Christian women who like to get out and enjoy the ride."
The schedule was tweaked an hour here or there for the weather, but the rally rolled on. Dirt racing was a little dirtier, and the Bike Wash Boys—shirtless young men stationed to rinse off bikes in exchange for tips—added boot washing to their services. A few Hill Country rides; appearances by "Sheroes" riders, including Porsche Taylor and Lupita Velasquez; live music; a comedian; vendors, and a scavenger hunt kept attendees on the go.
When the skies cleared on Saturday, event emcee Moira Zinn launched a drone to capture video of the more than 700 women queued up on their bikes for the Parade of Sisters, a shot at the world record for the most female riders in one location.
Tri-Glide-rider Tanya Springer of Denton—"It's the same wind on two wheels or three," she pointed out—lined up for the parade early to help chase the U.K. record (1,132) set last August, and with hopes of at least surpassing the first LGG last year (808), which Springer also attended. Partly due to attendee cancellations related to the aftermath of hurricanes, LLG's headcount was 736 this year— meaning they'll have the opportunity to try again in 2018.
The South Texas chapter of The Posse, Chrome Divas from Corpus Christi, and Wichita members of Rosie Riders of Kansas were among the groups who came in together. "Rosie Riders is a very supportive group of women riders," said Trez, a member. "When I was new, they were so understanding. That's just how we roll."
Friendliness was in ample supply. "Everyone talks with everyone, and not one person says, 'You can't do that because you're a woman,'" said Joy Gale from Warren, Michigan, who attended the rally with her daughter Tabitha Gale, who came in from Birmingham, AL. "I came in to help with the parade headcount and because we hadn't seen each other since Easter," Tabitha added. The mother-daughter duo marked the weekend by acquiring matching tattoos of a red butterfly with stars.