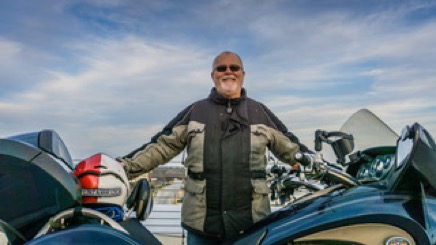 By: Allison Dyer
Rex Covington, creator and director of his lonestarrider.tv channel, is making his dream into a reality—literally. Last month, Rex dreamed he rode across the country on his Victory Vision motorcycle and raised more than $90,000 in a year for a cause that personally resonates with him. When he woke he thought to himself, "Great idea. I'm going to do it."
We caught up with Rex at the Progressive International Motorcycle Show in Dallas this February, where he told us his story. In 2015, Rex's son, Chris Covington, passed away at age 36 in a tragic accident. Living with Type 1 insulin-dependent diabetes since 2003, Chris blacked out while driving and passed away in a fiery crash. Rex spoke about how he felt he couldn't have stopped the incident, but "I can help in trying to prevent this from happening to someone else." It was then Rex began his philanthropic efforts. So far, he has raised some money for the American Diabetes Association (ADA), but nothing as major as his dream goal: $90,000 in just one year of riding.
Rex invites you to follow along during the ride of his life. On May 23, he is having a launch party at the Ginger Man, where his son Chris worked, at 7:00pm. The Ginger Man is located at 1512 E Southlake Blvd in Southlake. Rex departs for his yearlong journey from Fort Worth, Texas the following day. The first stop will be Austin for the Republic of Texas Rally. On his route, he plans to visit rallies, festivals, conventions and dealerships where he hopes to inform others about his cause. Rex plans to post a map of his route to his blog site soon.
As he rides, Rex endeavors to raise awareness about Type 1 diabetes, as well as funds for the American Diabetes Association. Rex is currently searching for some assistance to reach his goal through donations and sponsors. For more information about Rex and his fundraising plan visit his blog site lonestarrider.wordpress.com. There you can follow along his ride and also find a link to become a sponsor or donate to his ADA website, RidingForACure.com.