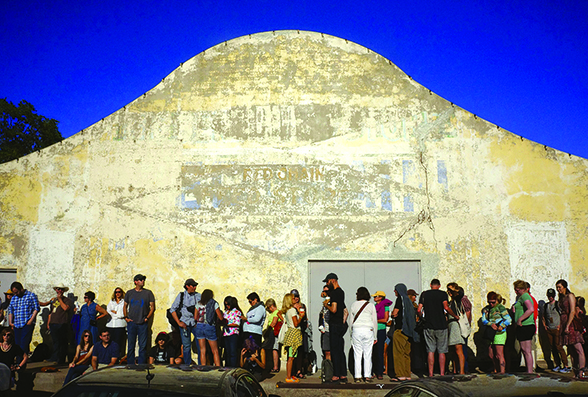 US 20, TX 17 (Photo Courtesy Marfa Film Festival)
With miles of the state's most rugged landscape, it's a no- brainer that West Texas would be the setting for movies about wild men and wild times. Fandango (1985) starred Kevin Costner and a pre-Brat Pack Judd Nelson. The characters were making a spur-of-the-moment run to Mexico (something many readers can relate to) during the uncertainties of the Vietnam era. Locations included Monahans, the Rattlesnake Bomber Range near Pyote, Fort Davis, and Marfa.
Directors have discovered that modern-day westerns are intensified when displayed against the backdrop of West Texas. The Three Burials of Melquiades Estrada (2005) was shot throughout the Trans-Pecos and Big Bend, with sets including Monahans.
No, the name "Marfa" is not a Spanish word that translates into "great movie location," but it might as well be. Giant (1956) may have set the baseline, but it was followed by notable movies, including No Country For Old Men (2007) and There Will Be Blood (2007). If your visit is timed right, you can catch a film or music festival in Marfa.
ALONG THE WAY
FORT DAVIS

DAVIS MOUNTAINS
STATE PARK
Park Rd. 3 (off TX 118 N.)
432-426-3337
tpwd.texas.gov/state-parks/davis-mountains
FORT DAVIS DRUG STORE AND HOTEL
113 State St.
432-426-3929 (restaurant) 432-426-3939 (hotel)
fortdavisdrugstore.net
FORT DAVIS NATIONAL HISTORIC SITE
101 Lt. Flipper Dr.
432-426-3224
nps.gov/foda
ON THE ROAD
Pit Stops
1. BENCOMO'S MOTORSPORT
701 State St.
Fort Davis
432-426-3232
2. STRIPES
4101 S. Cedar St.
Pecos
432-445-1581
Grab a Bite
1. THE BEAR DEN RESTAURANT
205 El Paso St.
Balmorhea
432-375-2273
facebook.com/pages/The-Bear-Den/108088672566197
2. PODY'S BBQ
1330 S. Cedar St.
Pecos
432-448-4635
facebook.com/PodysBBQ
Stay the Night
1. EL COSMICO
802 S. Highlands Ave.
Marfa
432-729-1950
elcosmico.com
Hotel and campground
2. HOTEL LIMPIA
101 Memorial Square
Fort Davis
432-426-3237
hotellimpia.com
Daytrip Diversions
1. WEST OF THE PECOS RODEO
1556 S. Cedar St.
Pecos
1-800-588-2855
pecosrodeo.com
Late June; home of the world's first rodeo
Only in Texas
1. BALMORHEA STATE PARK
9207 TX 17 S.
Toyahvale
432-375-2370
tpwd.texas.gov/state-parks/balmorhea
World's largest spring-fed swimming pool