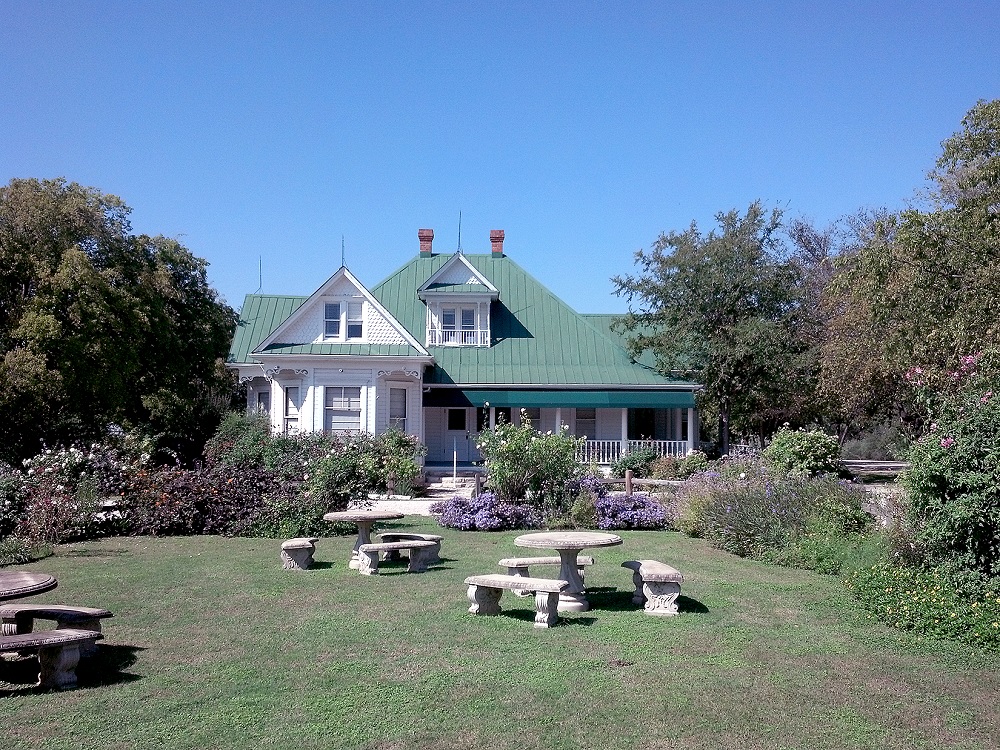 Photo Courtesy: The Antlers Inn
Romantics at heart still swoon over Hope Floats (1998), shot in equally romantic Smithville. Sandra Bullock and Harry Connick, Jr.—yeah, that was a cuddle movie! Smithville has its own film commission and more than a dozen movies to its credit. Roads sweep across the prairies through Elgin. Can you smell the sausage? Scenes for the ultimate Texas football movie Friday Night Lights (2004) were shot in Elgin, at the stadium in the Austin suburb of Westlake Hills, and in nearby Del Valle. Austin remains the personal playground of director Richard Linklater. Slacker (1991) captured the area around the University of Texas. It was followed by Dazed and Confused (1993), in which Matthew McConaughey first gained notice. Top Notch Hamburgers on Burnet Road was a famous location for that film. The ultimate Linklater movie was Boyhood (2014), which won dozens of international accolades. Enjoy a steaming plate of enchiladas at Dart Bowl, where Ethan Hawke and his dysfunctional movie family shared a meal. Our ride wanders the hills before arriving in Kingsland on scenic Lake LBJ. Stop for a bite at Grand Central Cafe at Antler Inn—the large Victorian house served as a movie set for The Texas Chainsaw Massacre (1974).
ALONG THE WAY
AUSTIN
COUNTY LINE ON THE
HILL BARBQ
6500 W. Bee Cave Rd.
512-327-1742
countyline.com
The original Westlake Hills location
DART BOWL AND CAFE
5700 Grover Ave.
512-452-2518
dartbowl.com
TOP NOTCH HAMBURGERS
7525 Burnet Rd.
512-452-2181
topnotchaustin.com
BEE CAVE
ROSIE'S TAMALE HOUSE
13436 TX 71 W.
512-263-5245
facebook.com/Rosies-Tamale-
House-110809575603130
ELGIN
MEYERS ELGIN SMOKEHOUSE
188 U.S. 290
512-281-3331
SOUTHSIDE MARKET AND BARBEQUE
1212 U.S. 290
512-285-3407
southsidemarket.com
KINGSLAND
ANTLERS HOTEL
1001 King St.
325-388-4411
theantlers.com
GRAND CENTRAL CAFE
1010 King Court
325-388-6022
kingslandgrandcentral.com
SMITHVILLE
KATY HOUSE BED AND
BREAKFAST
201 Ramona St.
512-237-4262
katyhouse.com
POCKETS GRILLE
205 Fawcett St.
512-237-5572
pocketsgrille.com
ON THE ROAD
Pit Stops
1. CONOCO
501 TX Hwy 230 Loop
Smithville
Grab a Bite
1. COMFORT CAFE
111 NW 1st St.
Smithville
512-360-2100
2. LUPE TORTILLA
MEXICAN RESTAURANT
701 Loop 360 S. (Capital of
Texas Hwy.), Austin
lupetortilla.com
Stay the Night
1. SONESTA BEE CAVE
AUSTIN HOTEL
12525 Bee Cave Pkwy.
Bee Cave
512-483-5900
sonesta.com
2. W HOTEL
200 Lavaca St.
Austin
512-542-3600
whotelaustin.com
Diversions
1. AUSTIN MOON TOWERS
Zilker Park, Andrew Zilker Rd.,
Austin
There are 17 "moon towers"
left in Austin. This location
was featured in Dazed and
Confused.
2. DEL VALLE
FOOTBALL STADIUM
5301 Ross Rd.
Del Valle
512-386-3200
Scene of Panthers' Fieldhouse
in Friday Night Lights.
Only in Texas
1. THUNDER ON THE
COLORADO BIKER RALLY
Riverbend Park
107 W. TX Hwy. 71
Smithville
thunderonthecolorado.com
Early May.