Sanger to Muenster FM 455/FM 677/FM 373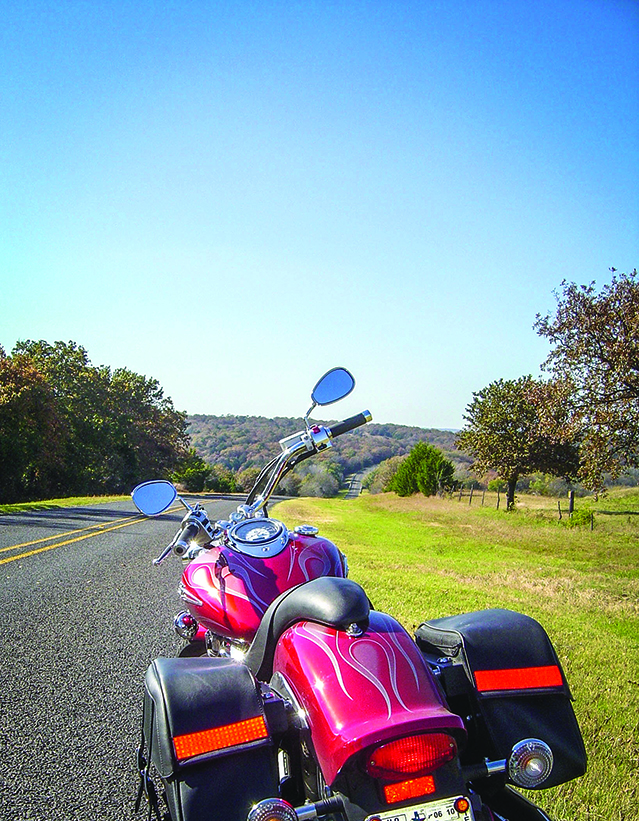 If you're a fan of great German cooking, served up with a heaping side of Texas hospitality—and some of the most beautiful country North Texas has to offer—join us as we traverse the Muenster Loop.
By Johnny Davis
About 50 miles north of Dallas-Fort Worth is the small town of Sanger, and it's there I like to start my journey.
Riding west of Sanger on FM 455, you're out in open country. The riding is relaxed as the road escorts you into rural scenery, while offering the occasional narrow, tree-lined bridge, switchback or hill. Watch out for a few sets of wide sweeping curves. While not unduly treacherous, they seem to come out of nowhere and, if you've been happily cruising at highway speeds, they can be a surprise if you're distracted or an inexperienced rider.
The road wanders through farm and ranch country, eventually converging with other farm-to-market roads at the tiny town of Forestburg. It's a small community, around 50 or so people, but there you'll find an outdoor arena for the local horse riding club, the friendly Weinhof Winery (bikers welcome!), a little country store with a grill serving burgers in the back, and a feed store next door. When it's hot, the store is a good place to stop for a cold drink and a rest under a nearby covered porch.
On the western outskirts of Forestburg, you'll pick up FM 677 heading north. Our next destination is Saint Jo, and the road is both scenic and winding—always fun. A word to the wise though: stretches of the roads in this area are in varying states of disrepair because of the many trucks that use this route. There is ongoing maintenance but you'll likely encounter potholes, patches, as well as new asphalt. My last trip found me weaving through asphalt patches like some imaginary obstacle course. You may want to avoid rolling two or more bikes deep—distance between bikes serves well to give riders time to react and pick their own course through the road's imperfections.
Where FM 677 crosses highway 82, you'll find Saint Jo, a small town founded in 1849 by settlers looking for gold. There was never any gold, and the town was renamed from Head of Elm to Saint Jo in 1873. There are many tales of how the town got to be called Saint Jo but a favorite is that it was named for Joseph Howell who laid out the town. Howell achieved "sainthood" because he was so opposed to the demon drink… and to this day Saint Jo does not permit alcohol sales.
Saint Jo's downtown square has been rejuvenated over recent years and includes the Davis & Blevins Gallery, which features the art of a descendent of Joe Howell, Donna Howell-Sickles. Donna is co-founder of the gallery and a well-established artist whose cowgirl art has earned her induction into the National Cowgirl Museum and Hall of Fame. Also, don't miss the Stonewall Saloon—it was shut down in February 1899 due to the county's prohibition but has been restored as a replica of the original saloon and museum.
Continuing north out of town, FM 677 soon snakes its way down a set of descending curves that look out over beautiful vistas of distant ranches nestled in the valley below. After almost 11 miles, you'll find yourself at the desolate intersection with FM 373 and this is the route you'll take to loop back southeast toward Muenster.
Flowing with the land's contours, while cutting through its oaks and cedars, FM 373 to Muenster is a nice little stretch of country riding. Just before you reach the town of Bulcher, look out for the entrance to Red River Motorcycle Trails—a sprawling 2,700-acre off-road motorcycle park, and home to the annual "Last Man Standing" rough-terrain motorcycle race. If you've never visited, it's well worth checking out.
Don't expect too much from Bulcher. Founded in 1872, Bulcher never boasted a population of more than 250, and by the end of the 1980s, everyone left the town and sadly most of the vacated buildings were destroyed by vandalism. Points will be awarded if you spot one of the six people currently living there.
Along the next 14 miles to Muenster, you'll pass by Turtle Hill Golf Course as well as an impressive wind farm. The sight of the cozy little golf course nestled in a valley between hills that are topped with a crop of large wind turbines makes for visually stimulating scenery. The best way to approach is from the north, where you might briefly experience the dramatic illusion that the spinning blades are closer than you expected, and that you are about to get hacked to death. But once you top the hill, you'll see that the turbines are actually a safe distance away. 
Abandoning the wind farm and its hilly, wooded surroundings, the terrain quickly changes to flat farmland as the road makes its way into Muenster. As you approach the town, there is one last set of sweeping 90-degree curves before speed limit signs finally return you to the leisurely flow of small town Main Street traffic.
More than 90 percent of Muenster's population can boast a German heritage. Indeed, up until the 1930s, the primary language spoken in Muenster was German but, since it stopped being taught as the main language in schools after the First World War, you'll have no problem being understood in English!
Every year, Muenster celebrates Germanfest, and this year it's being held on Friday, April 24 through Sunday, April 26. There's a fun run, a bicycle rally, live music on two stages, and barbecue cook-off.
If you can't get to Muenster for the festival, don't worry, there's a lot more to do instead. Check out Fischer's Meat Market—a butcher's shop and much more—where the meat is supplied from a nearby family farm. Fischer's also includes a full grocery store with a huge selection of imported beers, wines, and other specialty items.
Muenster is also home to one of the few Glockenspiel towers in the nation. This Bavarian clock tower plays traditional German celebration music every hour on the hour (weather permitting), with seven German characters popping out of the tower to make an appearance.
When in Muenster, expect wonderful German food to be all over every menu in town. A favorite place to eat is Rohmer's Restaurant, located on Highway 82. Rohmer's has been serving a variety of tasty, authentic German cuisine—in addition to more standard Texas fare—for more than 50 years. Another biker-friendly place on Main Street is Doc's Bar & Grill where you can eat out in the shade in their biergarten out back or inside if you're inclined toward large-screen TVs, a jukebox, and live music on the weekends.
From Muenster, it's a snap to hop on Highway 82 to get to Interstate 35 if you need to get home. But if you have the energy for a more scenic route back to urban life, take FM 373 south and you're once again plunged into more sweeping curves on the road in a rural countryside setting. After about 10 miles, strike west on FM 922 on your way back to Forestburg. The narrow road weaves the rider into the very fabric of the countryside as road and rider glide over the land's contours. Passing through the tiny hamlet of Rosston, you'll get just a glimpse of the rustic Rosston General Store. The ramshackle little gem is worthy of a detour and photo op. Once at Forestburg, head back south on FM 455 and rejoin Interstate 35 after about 30 miles—back to the persistent churn of urban life.
Along The Way
FORESTBURG
Weinhof Winery
16678 FM 455
940-964-2552
weinhofwinery.com
MUENSTER
40th Annual Germanfest
April 24-26, 2015
germanfest.net
Doc's Bar & Grill
113 N. Main Street
940-759-3627
Elm Creek Manor Luxury Spa Resort
2287 FM 2739
940-759-2100
elmcreekmanor.com
Fischer's Meat Market
304 N. Main St.
940-759-4211
fischersmeatmarket.com
Koesler Haus Rental Cabin Getaway
1829 FM 2739
940-759-4732
koeslerhaus.com
Muenster Chamber of Commerce
940-759-2227
muensterchamber.com
Red River Motorcycle Trails
15393 N. FM 373
940-995-2903
redrivermotorcycletrails.com
Rohmer's Restaurant
217 East Division St.
940-759-2973
rohmersrestaurant.com
SAINT JO
Arché Vineyard & Winery
228 Wagner Road
214-536-6330
archewines.com
Blue Ostrich Winery & Vineyard
5611 FM 2382
940-995-3100
blueostrich.net
Davis & Blevins Main Street Gallery
108 S. Main St.
940-995-2786
sjmainstreetgallery.com
Stonewall Saloon Museum
100 Main St.
940-995-7193
stonewallsaloonmuseum.com
On The Road
Pit Stops
1. THE PIT STOP
6551 W. FM 455,Sanger
940-458-5100
Grab a Bite
1. ANCIENT OVENS
857 Childress Rd., Saint Jo
940-366-4255
2. BAYERS KOLONIALWAREN
824 E. Division St., Muenster
940-759-2822
3. BIG MOMMA'S CATFISH & PIES
303 Bolivar St., Sanger
940-458-3336
Stay the Night
1. FISCHERHAUS BED & BREAKFAST
223 N. Oak St., Muenster
940-759-4211
2. TEXAS KINGS HOTEL
104 S. Broad St., Saint Jo
940-995-2565
texaskingshotel.com
Diversions 
1. TURTLE HILL GOLF COURSE
7708 N. FM 373
940-759-4896
playtheturtle.net
2. ROSSTON GENERAL STORE
16804 W. FM 922, Rosston
940-768-2239
Only in Texas
1. HORTON'S CLASSIC CAR MUSEUM
115 W. Walnut St., Nocona
940-825-1022
hortonclassiccarmuseum.com
2. FRANK BUCK ZOO
1000 W. California St.
Gainesville
940-668-4539
gainesville.tx.us