Riding The Kolache Trails- Route #1 WESTWARD HO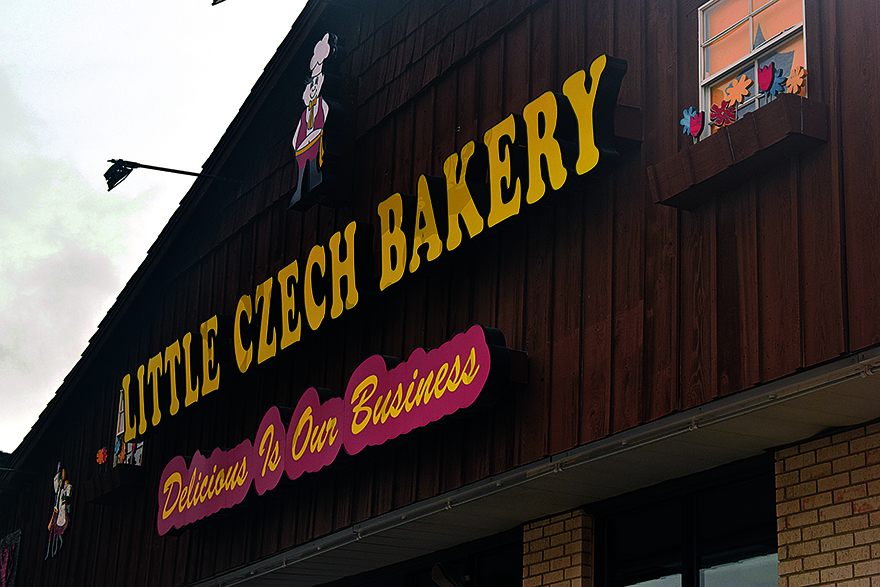 The Czech Stop's Little Czech Bakery is probably the most well known in West.
Story & Photos By Tom Wiley
Texas is one of the great melting pots of this nation. Waves of Czechs arrived between 1850 and the onset of World War I, bringing their language, social organizations, and food. Kolaches are soft, sweet pastries with a shallow divot in the center, usually filled with fruit or sweetened cheese. Variations include the use of crumb toppings, spices and seeds, and various sausages.
For your gastronomic pleasure, I'm submitting three rides that run through the "Czech Belt" of our state, passing through numerous towns proud of their European heritage, and stopping at hometown bakeries where kolaches are a tradition, not a trend. Bring your appetite!
ROUTE #1 WESTWARD HO!
It's hard to pass by West, Texas, and not stop for kolaches. Rich blackland prairies here drew Czech immigrants. With a tradition of raising large families, Czechs became the dominant culture in West by 1920. When Interstate 35 was completed, West began promoting this heritage. Travelers happily exit the interstate to visit bakeries and restaurants, as well as attend Westfest Czech and Polka Festival, held each year on Labor Day.
Most visitors are familiar with the Czech Stop. It is a mega-convenience store with Texana and Czech kitsch galore. The kolaches are excellent, but we also want to "czech out" their competition. The Village Bakery claims to be the first all-Czech bakery in Texas. Gerik's Ole Czech Bakery is combined with its famous smokehouse. The West Baking Company is also located inside a convenience store, but don't let that dissuade you. Slovacek Sausage Company began operations in Snook, Texas, but recently opened a store in West. In addition to the bakery, we can enjoy a sit-down lunch at the Kissing Pig Café.
Narrow roads define the boundaries of farmlands in Hill, Limestone, and Falls Counties. Many Texans are not aware of the extent to which the discovery of mineral waters has affected this state. Workers digging a city well in Marlin in 1891 found a gusher of hot water with an overpowering smell of sulfur. Clinics, bathhouses, and sanatoriums were quickly constructed. Conrad Hilton opened the 110-room Falls Hotel in 1929. Marlin's economy revolved around the health industry for 50 years. Little remains from Marlin's golden era, but it's still fun to ride through such towns and imagine better times hidden in the walls of historic buildings.
Germans named the settlement of Westphalia after their homeland. The Church of the Visitation in Westphalia was completed in 1895, with stained-glass windows and the main altar shipped from Germany. Pews were planed and joined by hand. Services are enriched by a 1914 pipe organ. Visitors are invited to the church homecoming and picnic each October.
Our ride concludes at Zabcikville, about 10 miles east of Temple. This would be just another wide spot on the road if it were not for Green's Sausage House. The café here has been serving excellent comfort food since 1946—if you can get past the display cases of kolaches and other pastries!
A short list of some unbeatable kolache stops and events:
WEST
CZECH INN
I-35, Exit 355
254-826-0900
CZECH STOP & LITTLE CZECH BAKERY
105 N. College St. (I-35, Exit 353)
254-826-5316, 254-826-4161
czechstop.net
GERIK'S OLE CZECH SMOKEHOUSE & BAKERY
511 W. Oak St.
254-826-3327
SLOVACEK SAUSAGE COMPANY
214 Melodie Dr. (I-35, Exit 353)
254-826-4525
slovacekwesttexas.com
VILLAGE BAKERY
113 E. Oak St.
254-826-5151
WEST BAKING COMPANY (Cefco Gas Station)
215 S. George Kacir Dr.
254-826-4610
WESTFEST
Main St.
254-826-5058
westfest.com
Labor Day weekend