What to do when the weather is too nasty to ride? Plan a Challenge Ride, of course!
Have you ever noticed the Polar Vortex always seems to blow in on a Thursday? There go the weekend ride plans.
Forecast highs in the 20s and 30s are enough to make me think twice about climbing in the saddle. But all is not lost. When the weather is too nasty to ride, I like to pull out the maps– or navigation software– to plan the next two-wheeled adventure.
Lately, I've been daydreaming of a new distance challenge. But I only have the weekend to get it done. And there should be a theme to keep me interested. Okay, I want a new certificate and patch. So I've been perusing the pages of the Iron Butt Association website.
The IBA is a organization of long distance motorcyclists and the gateway ride to membership is the Saddlesore 1,000 (SS1K). This involves completing and properly documenting a 1,000-mile motorcycle ride in under 24 hours on the clock. In addition to bragging rights, you'll be assigned an IBA member number and receive an official ride certificate (in exchange for $40). If you choose, you may purchase other goodies such as a pin, patch, license plate frame, and stickers.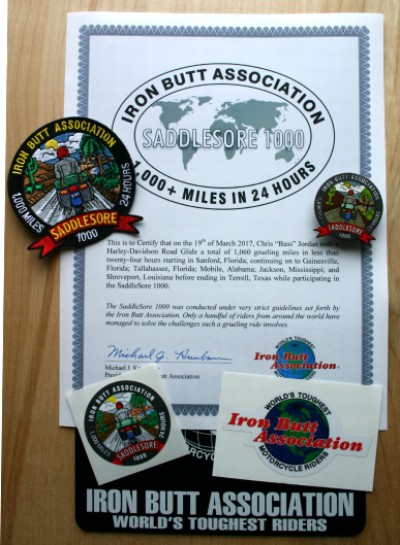 Why do they call it an "iron butt?" After several consecutive hours in the saddle your butt hurts, obviously. Don't worry, though. After several more hours, your butt just goes numb. Like… iron? After fourteen to eighteen hours on the road, you be the judge.
The best advice for completing a qualifying run is to closely read and adhere to the Saddlesore Guidelines and long-distance riding tips provided by IBA. Honestly.
What follow are a few rider insights touching on key aspects of a successful ride.
Route Planning
First, plan your ride for at least 1,040 miles. This is to account for possible errors in odometer readings. Just do it.
Also, keep in mind you probably won't get optimal gas mileage, so be aware of the availability of filling stations, or lack thereof, along your route. There is a long, dry stretch, for example, along I-10 somewhere between Junction and Ft. Stockton. Also, some stations may not have 24-hour pay-at-the-pump services. As a rule of thumb, I try not to let my gas reserves fall below a quarter tank.
IBA likes to see the route plan in Google maps. Do plot, save, and share the route in Google maps with IBA. (Check their Guidelines for how to do that.) Google can do a lot to help with planning, such as show gas stations along your route and identify which are open 24 hours. However, you can also use any other software or app you prefer to plan and follow the route as you ride.
GPS tracking of your ride is not required, but it isn't a bad idea. (Ride tracking is in addition to, not in lieu of, route planning.) Free tracking apps for smart phones include SWConnect (in conjunction with Spotwalla) and REVER. Garmin and SPOT offer proprietary GPS tracking devices and subscription services. Sharing your location while tracking brings an added safety benefit.
I might then send IBA a printout of my tracked ride in addition to the route plan in Google. Note the tracked ride alone will not meet IBA certification requirements.
Gas Receipts
The ride officially starts (and ends) with a gas receipt. This receipt must show the location, date, and time. You'll want at least the date and time stamp on all the receipts in between. If the location isn't printed on any of those receipts, I recommend writing it down—in the moment– on the Ride Log provided by IBA (see below).
Number every receipt and write the odometer mileage at the top. Next, hold the receipt next to your motorcycle odometer and take a photo with your phone.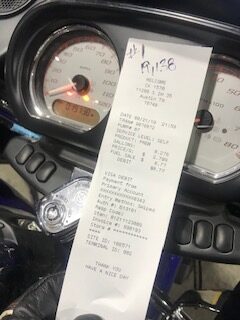 Check the picture to be sure everything on the receipt and odometer mileage is legible.
And, before taking off again, take a moment to store each receipt in a common envelope or, even better, a waterproof pouch. Stuffing receipts in pockets is a good way to lose one. You really don't want lost receipts as you'll need them later for backup documentation.
On a side note, IBA likes to see some verification of longer breaks. Get fuel, for example, when you pull into a gas station. That receipt should be time stamped. Relax and eat lunch for 40 minutes, let's say. Then buy a bottle of water in the convenience store on your way out. Keep the time stamped receipt.
Application
Particularly if this is your first IBA ride, I strongly recommend printing up the Application in advance because it includes both a Ride Log (for recording gas stops and mileage) and a Checklist. Bring the Ride Log with you.
Plan your ride, ride your plan. And stay organized for the duration of the ride. It really is a pain trying to recreate a ride and account for missing information after the fact.
Once you've gathered all documentation and filled out the application, you can submit it via snail mail or scan everything to apply electronically. Either way, don't forget to send payment or your application will not be processed.
Finally, it may take some weeks before IBA volunteers are able to process and respond to your request. On behalf of all current and future IBA members, please be patient. If you find challenge riding is for you, you can subsequently apply for Premier membership to expedite the certification process in the future.
Keep going! So many roads….
Long-distance riding becomes a passion for many. Although newbies often casually refer to the Saddlesore 1,000 as "The Iron Butt," the SS1K is only the beginning.
Check out IBA's long list of mileage-based and themed rides including coast-to-coast and international rides in the U.S. and abroad. The possibilities and the miles are endless