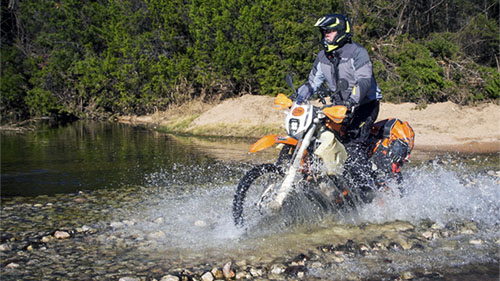 Remember those days when safety came third? You caught air jumping your bike off rocky ledges, cut across fields, purposely rode through mud puddles and came home a happy, hot mess. We're grown-ups now and, yeah, we still do that.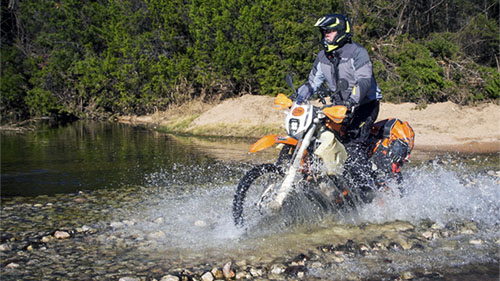 Since 2004, Texas Adventure Riders Association has coordinated dual-sport adventure rides, including several multi-day rides/rallies per year. Participating riders are spread through Dallas/Ft. Worth, Houston, Austin and surrounding areas. If you'd like to meet Central Texas members, TARA holds meet-and-greets and monthly rides. TARA also provides useful information on off-road motorcycling in general on their webpage texasadventure.net.
The best off-road riding in Texas, according to founder Richard Gibbens, is around the Texas Hill Country and Big Bend. You'll find roughly 100 to 150 riders gathered for the Around the Bend Rally (Big Bend National Park) each March, Texas Adventure Ride (Junction) sometime in May, and Hill Country 500 (Johnson City/Llano) around November.
Typically, these events are loosely organized. TARA provides t-shirts and stickers, one buffet-style meal, GPX route maps, and orientation as needed. Riders self-organize in small groups and reconvene for socializing at day's end. Planners make an effort to include a variety of routes suitable for both dual-sport and larger Adventure bikes. Beginning to advanced riders are welcome. A word of hard-earned advice: do ask organizers about trails before hopping in the saddle. If stuck, say, under a relentless sun in the middle of the desert… fellow riders won't leave you, but they won't love you either.
This August 22-28, 2021, conditions permitting, TARA heads to Reserve, New Mexico. The New Mexico Backcountry Discovery Route traverses the area, which offers a lot of what Gibbens calls Class 2 (intermediate) trails. Some planned routes will be provided (including rides suitable for beginners), whereas other trails remain to be scouted. Still in the planning stages, the event may span five to eight days and is limited to 50 riders. TARA will announce the specifics as plans crystalize.
Look for TARA and other organized dual-sport/ADV events on Texas Adventure Riders Facebook page and the Two Wheeled Texans online forum.
Finally, check the online Ride Texas Events calendar and don't miss our regular column D.A.R.T. tips by Bill Dragoo of Dragoo Adventure Rider Training in Ride Texas magazine.