Fredericksburg to Kerrville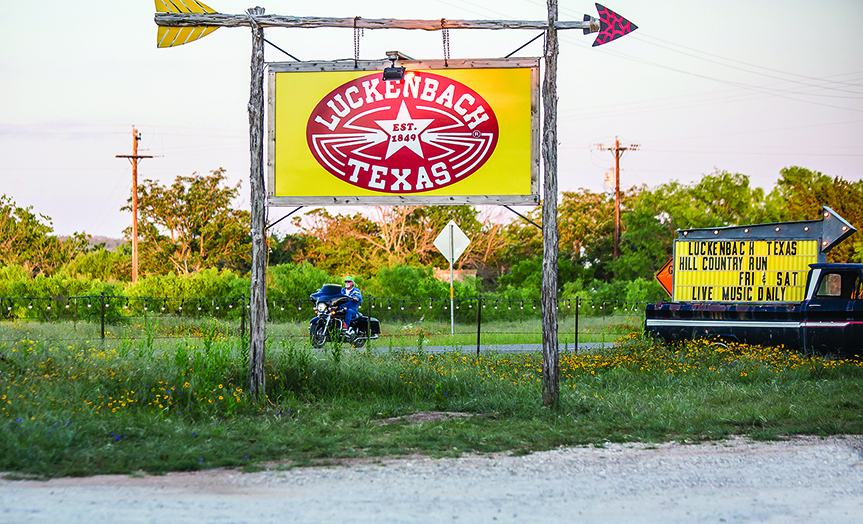 Photo Courtesy Hill Country Run
Heritage and history define the Fredericksburg-to-Kerrville ride. Ever since Baron Otfried Hans von Meusebach made peace with the Comanche and found a site 80 miles northwest of New Braunfels to accommodate more German settlers coming into the region, Fredericksburg has been a sought after destination. The towns around here celebrate their rich German heritage with annual events including Founders Day, Food & Wine Fest, Oktoberst, Kinderfest and more. Motorcycling events here include the Hill Country Run in May and the Harvest Classic Motorcycle Rally in October (both in Luckenbach), as well as the Johnson City Pig Roast, also in October. And don't miss the Kerrville Folk Festival—18 days of fun and strummin' starting Memorial Day weekend.
ALONG THE WAY
FREDERICKSBURG
ADMIRAL NIMITZ STATE
HISTORIC SITE—NATIONAL
MUSEUM OF THE PACIFIC WAR
304 E. Main St.
830-997-4379
pacificwarmuseum.org
FORT MARTIN SCOTT
HISTORIC SITE
1606 E. Main St.
830-217-3200
ftmartinscott.org
Adjacent to Texas Rangers
Heritage Ctr.
OLD TUNNEL STATE PARK
10619 Old San Antonio Rd.
866-978-2287
tpwd.texas.gov/state-parks/old-tunnel
See bats at sunset, May – Oct.
PIONEER MUSEUM COMPLEX
325 W. Main St.
830-990-8441
pioneermuseum.net
WILDSEED FARMS
U.S. 290 at 425 Wildflower Hills
800-848-0078
wildseedfarms.com
INGRAM
STONEHENGE II
120 Point Theatre Rd.
830-367-5121
hcaf.com/stonehenge-ii/
KERRVILLE
JAMES AVERY VISITOR
CENTER & STORE
145 Avery Road N.
830-895-6800
jamesavery.com
KERRVILLE FOLK FESTIVAL
Quiet Valley Ranch
9 mi. south of Kerrville on
TX Hwy. 16
kervilletx.com
Runs 18 days starting
Thursday before Memorial Day
KERRVILLE-SCHREINER PARK
2385 Bandera Hwy.
830-257-7300
kerrvilletx.gov
THE LAKEHOUSE RESTAURANT
1655 Junction Hwy.
830-895-3188
hillcountrycookin.com
LOUISE HAYS PARK
202 Thompson Dr.
830-257-7300
kerrvilletx.gov
On The Road
Pit Stops
1. KERRVILLE KOUNTRY STORE & GAS
920 Harper Rd.Kerrville
2. LOVE'S TRAVEL STOP
43 U.S. Hwy. 87, I-10 Exit 523 Comfort
Grab a Bite
1.   AUSLANDER RESTAURANT
323 E. Main St.Fredericksburg
830-997-7714
theauslander.com
2.     MISS GIDDY'S
817 High St.Comfort
830-995-3550
missgiddys.com
Stay the Night
1. FULL MOON INN
3234 Luckenbach Rd.
Fredericksburg
830-997-2205
fullmooninn.com
2. THE INN OF THE HILLS RESORT
1001 Junction Hwy.
Kerrville
830-895-5000
innofthehills.com
Daytrip Diversions
1. FREDERICKSBURG TRADE DAYS
355 Sunday Farms Lane
7 mi. east of Fredericksburg
830-990-4900
fbgtradedays.com
2. MUSEUM OF WESTERN ART
1550 Bandera Hwy.
Kerrville
830-893-2553
museumofwesternart.com
Only in Texas
1. LUCKENBACH
412 Luckenbach Town Loop
TX Hwy. 290 & FM 1376
830-997-3224
luckenbachtexas.com