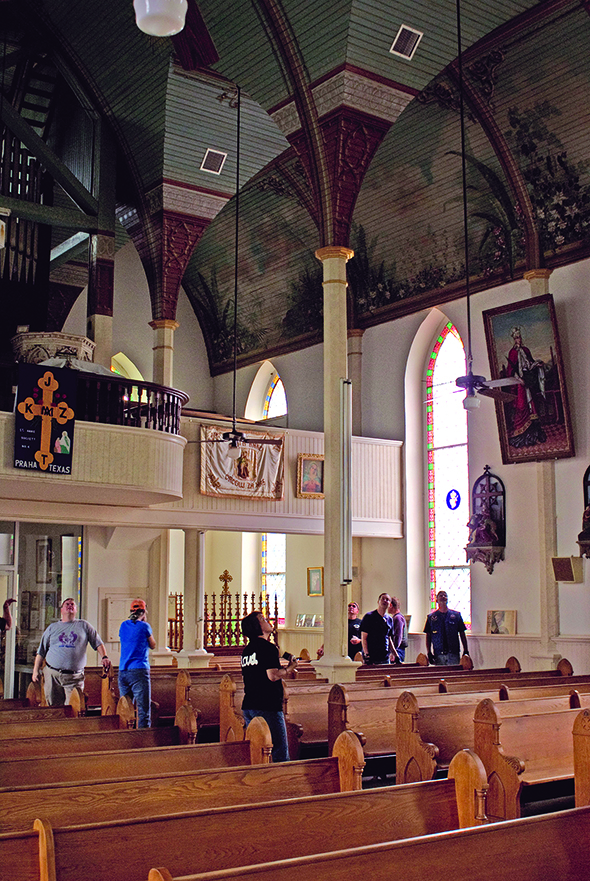 US 77 / FM 155 / FM 1965 / FM 1383 / FM 956 / FM 2672 / FM 2238 / US 90 / FM 615
If managed properly, this 42-mile ride will take all day! Fayette County in southeast Central Texas boasts rich historic and cultural ties along with scenic rural roads, especially during wildflower season. Bypass the bypass to enjoy unique shops and eateries in La Grange. Visit the town's beautifully restored 1891 courthouse, the Chamber of Commerce office in the old county jail, and the Monument Hill and Kreische Brewery State Historic Sites. German and Czech immigrants brought to Texas a tradition of elaborately painting and stenciling the interiors of their churches. Our route stops at four of the best Painted Churches. Step inside and be amazed at Ammannsville, Dubina, High Hill, and Praha. Come back another time to the community halls for cultural celebrations featuring plenty of great food, cold beer, and oompah music.
 By Tom Wiley
Along The Way
AMMANNSVILLE
ST. JOHN THE BAPTIST CATHOLIC CHURCH
7745 Mensik Rd.
979-743-3117
DUBINA
SAINTS CYRIL AND METHODIUS CHURCH
FM 1383
HIGH HILL
NATIVITY OF MARY, BLESSED VIRGIN CATHOLIC CHURCH
2833 FM 2672
stmary-highhill.com
LA GRANGE
BACK PORCH BBQ
1602 N. Jefferson St.
979-968-1580
thebackporchbbq.com
MONUMENT HILL & KREISCHE BREWERY STATE HISTORIC SITES
414 TX State Loop 92
979-968-5658
tpwd.texas.gov/state-parks/monument-hill-kreische-brewery
WEIKEL'S STORE AND BAKERY
2247 TX Hwy. 71 W.
979-968-9413
weikels.com
PRAHA
ST. MARY'S CHURCH OF THE ASSUMPTION
821 FM 1295
stmaryspraha.org
SCHULENBURG
PAINTED CHURCHES TOUR
schulenburgchamber.org/tours/churches
On The Road
Pit Stops
1. SPEEDY STOP
U.S. Hwy. 77 S., Schulenburg
979-743-3138
Grab a Bite
1. FRANK'S RESTAURANT
11 N. Kessler Ave., Schulenburg
979-743-3555
2. INA'S RESTAURANT
30 East Ave., Schulenburg
979-743-5111
Stay The Night
1. BEST WESTERN
600 E. TX Hwy. 71 Bypass, La Grange
979-968-6800
2. HATTIE'S HAUS
12020 FM 1383, Schulenburg
979-250-1735
Diversions
1. FREYBURG UNITED METHODIST CHURCH
FM 2238, Freyburg
2. POLKA-SENGELMANN HALL
531 N. Main St., Schulenburg
979-743-2300
sengelmannhall.com
3. STANZEL MODEL AIRCRAFT MUSEUM
311 Baumgarten St.,Schulenburg
979-743-6559
stanzelmuseum.org
Only In Texas
1. CEDAR CEMETERY
3701 FM 609, La Grange
979-247-4260
Best bluebonnets in spring!