Thurber's Smokestack Restaurant, a historic diner in a tiny Texas town.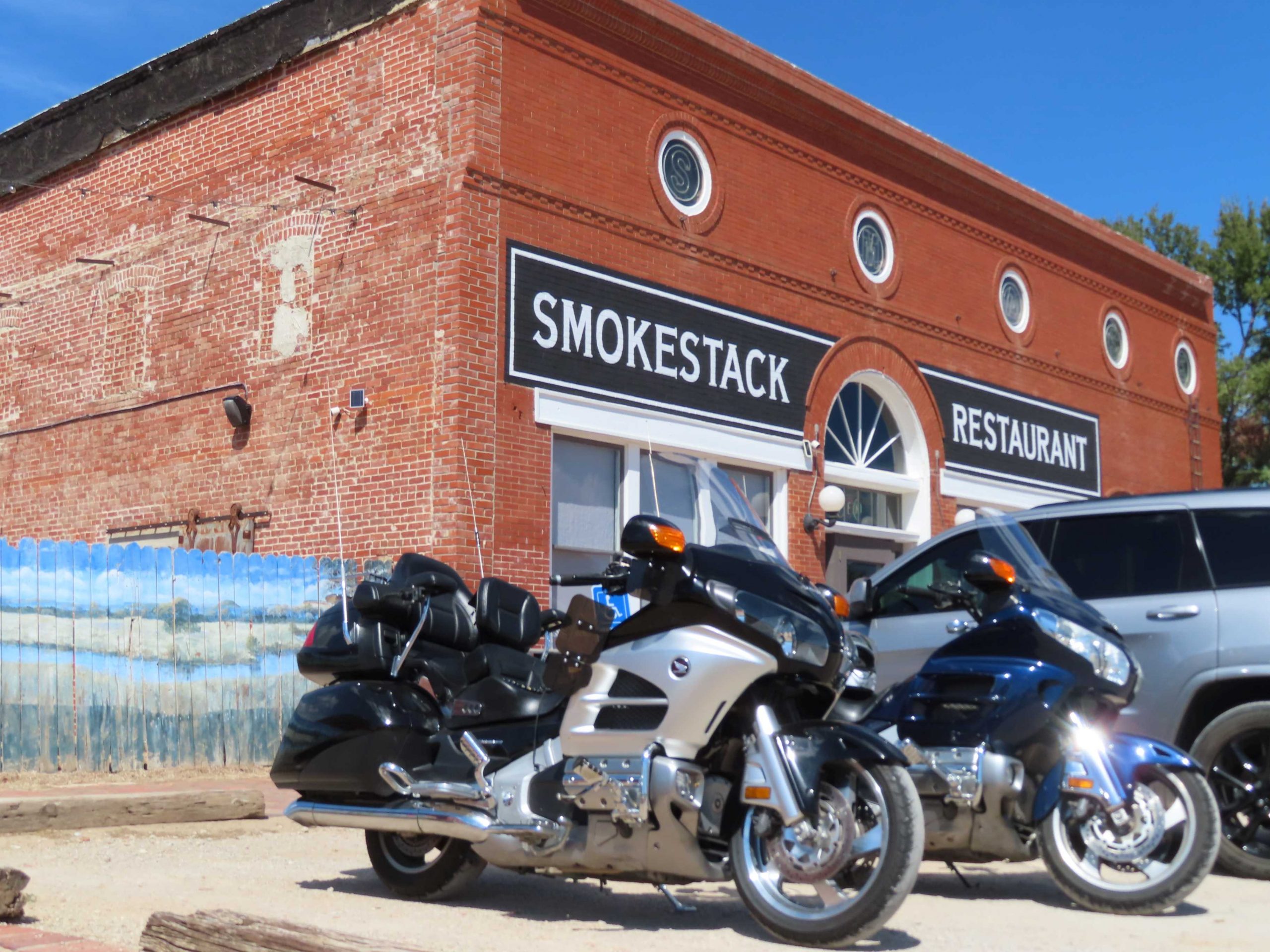 Text and photos by Bill Crowley.
After a sunny Fall morning of riding through North Central Texas, my brother, Jim Bob, and I were looking forward to a good meal and tall glasses of iced tea. Two miles south of Mingus and just before Texas State Highway 108 crosses Interstate 20, we entered the community of Thurber, population 5.
A tall, red brick chimney and a prominent, black-and-white sign indicated we found the Smokestack Restaurant, a "hidden gem" of an eatery known throughout the Palo Pinto mountains. "Mountains" might be a stretch, for, geologically, the region surrounding Thurber may be better described as the northern reaches of the Texas Hill Country.
Many entertaining roads lead to Thurber. Some of the most intriguing include the section of Texas State Highway 16 from Graham that winds around Possum Kingdom Lake before intersecting I-20 near Strawn, and Thurber conveniently lies only six miles east. Alternatively, Farm-to-Market Road 4 points south out of Graford, through the Palo Pinto community, and continues through some of the best curves and ridges the Palo Pinto mountains offer before intersecting I-20. Thurber is about twelve miles west of that juncture.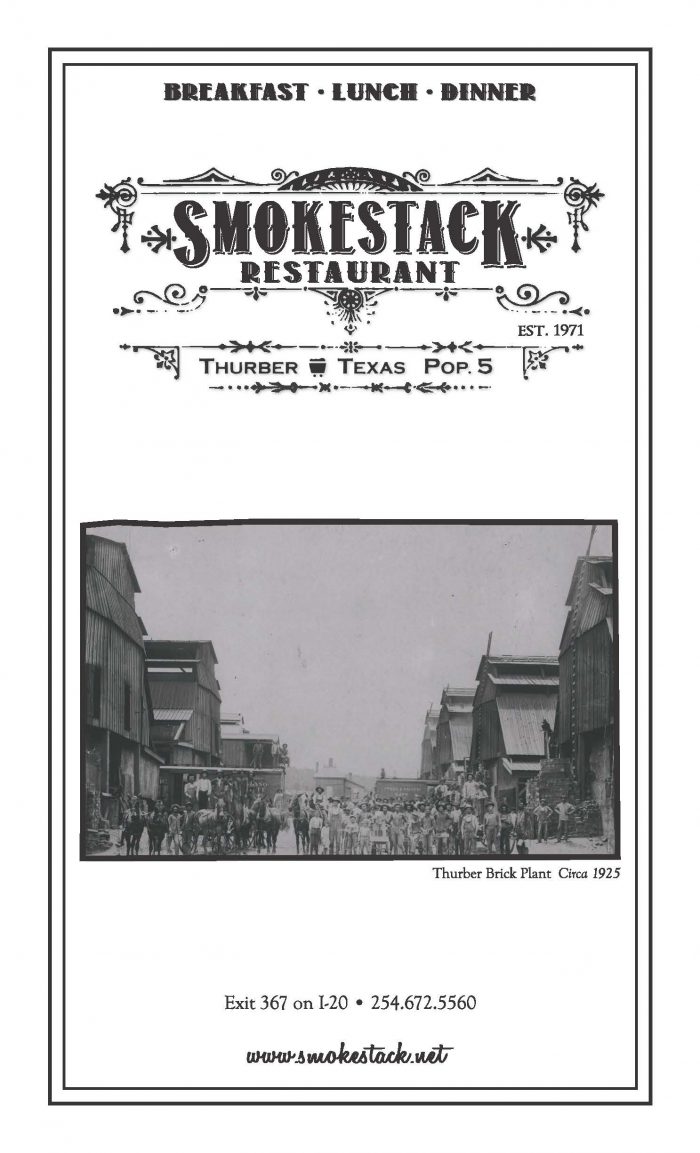 Thurber was once a company town created by mine owners to provide services and shelter for workers. An estimated 10,000 residents came from all over the world to extract millions of tons of bituminous coal. From the late 1880s to the early 1920s, Thurber's coal fed the nation's railroads, and the town prospered (although not without historic labor disputes). Eventually, locomotives were converted to diesel, and, in only a few years, Thurber became essentially a ghost town.
The Smokestack restaurant was the coal company's mercantile, selling supplies to miners and their families as they worked the state's largest coal deposit. Every interior wall is festooned with pictures, maps, antiquities, and documents depicting Thurber in its heyday.
Jim Bob and I were seated by a charming young lady who promptly took our drink orders and provided menus offering ample American and country favorites, fried fish, Tex-Mex, and other selections. When I inquired what dishes the Smokestack was most known for, the waitress replied without hesitation, "Our steaks."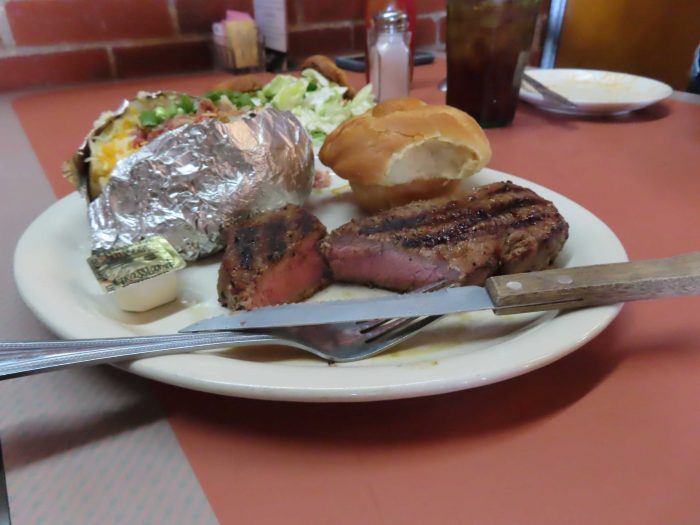 That was good enough for us. Jim Bob ordered the chicken fried steak for $15.95, and I opted for the eight-ounce top sirloin for just $13.95. Both entrees were served with our choice of two sides.
Though the restaurant was bustling with Saturday afternoon activity, the staff was well-trained and efficient. The atmosphere, created by numerous old-style, tall windows, was light and airy, and the dining room was immaculate.
Presently, our meals arrived, and Jim Bob and I wasted no time sampling the fare. My steak was fork-tender and perfectly cooked, served with a generous stuffed baked potato and crisp salad. Jim Bob, whom I consider a connoisseur of chicken fried steaks, described his plate-sized selection as "tender and lightly breaded, with a perfect crust-to-meat proportion." The cream gravy was "a fantastic complement–not too thin and not too heavy."
As we finished our meal, Jim Bob spied a young man at a nearby table enjoying a huge chocolate sundae served in a goblet. Yep, we had to have one of those too. It was delicious, frosty, and rich.
When our waitress delivered the check, I asked her if it would be possible to speak with the manager. "Of course," she replied. "She's right behind you."
A smiling Mollie Borders introduced herself with the addendum, "I'm number five," referring to her place in the Borders family line to have a hand in operating the restaurant since its founding in 1974. Her husband, Brian, is number four.
"We're very blessed to have a lot of visitors," Mollie explained. "On any given day, about half are locals and half are not. Lots of folks come off I-20 and say, 'We've seen this place and always wanted to stop in.' We're glad when they do… We're all about good home cooking and we want people to walk in to (be greeted with) a smile and leave with good food in their belly."
And that's exactly what diners who visit the Smokestack Restaurant do daily. It's a terrific place to enjoy a great meal and Texan hospitality in a truly unique historic venue.