Texas motorcycle laws, excerpted from the "Texas Department of Safety Motorcycle Operator's Manual," a publication created by the Motorcycle Safety Unit. For your reading pleasure, the full manual is included at the bottom of the page where you can chose to save it, e-mail it, or print it out. These laws were in force at time of publication, but are subject to change and modification. If you have any questions, please contact DPS at (800) 292-5787. Motorcycle Laws Page updated by McCraw Law Group.
Equipment
Texas law requires the following equipment on Motorcycles and Motor-Driven Cycles
Wheel Assembly
Exhaust System
Tail Lamp (1)
Stop Lamp (1)
License Plate Lamp
Rear Red Reflector
Head Lamp (1) (modulating permitted)
Vehicle Identification Number
Horn
Mirror
Steering
Brakes
Tires
Texas law requires the following equipment on Mopeds
Brake
Reflector
Head Lamp
Rear Lamp
---
Mufflers | Decibel Limitations
Texas currently has no statutes regarding mufflers/exhaust decibels.
---
Parking
Disabled Parking
State law provides that it is a violation (Class C misdemeanor – up to $500 fine) for a person to park, stand, or stop a vehicle (motorcycle)in a disabled person parking
space.
The law specifically states:
You may not park in a disabled parking space unless the vehicle (motorcycle) has a disabled license plate or a state issued removable windshield identification card;
You may not use a disabled parking windshield identification card unless transporting the disabled person to whom it was issued;
You may not lend your windshield identification card to someone else;
You may not block an access or curb ramp;
Additionally, certain municipalities also prohibit stopping or standing a vehicle (motorcycle) in a disabled parking space unless bearing a disabled parking windshield identification card or disabled license plate.
---
Other parking stipulations
Do NOT park in striped areas. Do not park a vehicle (motorcycle) in striped areas adjacent to handicap parking spaces or in striped area in front of entrance to a business adjacent to a parking space. The striped area is for wheelchair lifts.
In addition, motorcycles should not be parked on sidewalks.
Parking on sidewalks can prevent a person who is handicapped from gaining access to a business or their residence
---
Helmets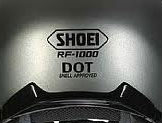 Helmets meeting Federal Motor Vehicle Safety Standard #218 (FMVSS-218) are required for motorcycle operators and passengers. Adherence to this standard is indicated by the "DOT" sticker. This requirement applies to all motorcycles, motor scooters, and mopeds regardless of size or number of wheels.
Persons at least 21 years old are exempt from wearing a helmet if they have completed a Department-approved Motorcycle Operator Training Course or they are covered with at least $10,000 in medical insurance. (Proof of medical insurance must be a card or certificate that contains the name of the insurer, the insurance policy number, and the policy period).
The law prohibits a peace officer from stopping or detaining a person who is the operator of or a passenger on a motorcycle for the sole purpose of determining whether the person has successfully completed a motorcycle operator training and safety course or is covered by a motorcycle health insurance plan and repeals provisions relating to a DPS-issued sticker required to be displayed on a motorcycle by a motorcycle owner.
The Basic and Advanced Motorcycle Operator Training Courses meet the helmet exemption requirement. The Advanced Motorcycle Operator Training Course is recommended for experienced licensed motorcyclists.
---
Alcohol/Driving While Intoxicated.
Just like operating any motor vehicle, it is a crime for a rider to operate a motorcycle, moped or three wheeled motorcycle while intoxicated from drugs or alcohol. In Texas, a person with a Blood Alcohol Concentration (BAC) of .08 percent or more is legally intoxicated. Texas' Zero Tolerance for Minors law make it illegal for persons under 21 to operate a motor vehicle (motorcycle) with ANY detectable amount of alcohol in his or her system in a public place.
---
Passengers
A passenger must be at least five years old. If under 21 years old a passenger must wear a helmet, if over 21 years old a passenger can ride without a helmet if the driver meets the helmet exemption requirements.
A motorcycle operator cannot carry a passenger unless the motorcycle is equipped with a permanent passenger seat.
---
Licensing
The operator of a motorcycle on a public highway must hold a valid motorcycle license (Class M driver license). This requirement also applies to operators of three wheeled motorcycles, motor-driven cycles and mopeds.
To receive a license to operate a motorcycle, applicants must pass a written test covering traffic laws pertaining to motorcycles and a road test. The road test may be waived. Out-of-state applicants who hold a motorcycle license are not required to show proof of course completion
An applicant (must be age 16 or older) who has passed a Department of Public Safety approved Basic Motorcycle Operator Training Course, and has an unrestricted (not an instructional permit) Class A, B, or C license, can present an MSB-8 completion certificate or a completion card from a course meeting Motorcycle Safety Foundation curriculum standards.
---
A special note about lane splitting
It is unlawful to ride directly alongside another rider in the same lane. There is no place to go if you have to maneuver to avoid a car or hazard in the roadway. However, riding in a staggered formation is not only legal, it aids the motorcyclist being seen by other traffic.
The American Motorcyclist Association places significant emphasis on motorcycle operator and passenger safety. On every type of public roadway, motorcyclists encounter challenges from other roadway users and are constantly vigilant to unsafe conditions around them.
Perhaps one of the most dangerous situations for any motorcyclist is being caught in congested traffic, where stop-and-go vehicles, distracted and inattentive vehicle operators, and environmental conditions increase the risk of physical contact with another vehicle or hazard.
Reducing a motorcyclist's exposure to vehicles that are frequently accelerating and decelerating on congested roadways can be one way to reduce front- and rear-end collisions for those most vulnerable in traffic. A 2014 study conducted in California supports this assertion by demonstrating that motorcyclists engaging in responsible lane splitting were less likely to be rear ended, suffer a head injury or be involved in a fatal crash.
Other potential benefits include an increase in conspicuity because the motorcyclist is moving relative to other traffic; a reduction in motorcyclist fatigue from constant shifting and braking in stop-and-go traffic; a lessening of the risk for engine damage for air-cooled engines; a reduction in motorcyclists' exposure to ambient heat in the summer and car exhaust year-round due to fewer hours spent in traffic.
Given the ongoing success of lane splitting in California and the recent enthusiasm for lane splitting and/or filtering in other states, the AMA endorses these practices and will assist groups and individuals working to bring legal lane splitting and/or filtering to their states.
The AMA's full position on lane splitting can be found here: http://americanmotorcyclist.com/Rights/PositionStatements/LaneSplitting.aspx.
Where's the AMA?

Although the American Motorcyclist Association (AMA) has been involved in supporting lane-splitting legislation in California and other states, it has thus far been reluctant to offer any opinion or assistance on this issue in Texas. Texas riders who are AMA members might want to contact them and express an opinion about their lack of interest and action in Texas, the state with the second highest number of motorcyclists in the USA. This is what you're paying dues for. They should be working for us, too, not just California's riders.
Contact the AMA
(800) 262-5646
(614) 856-1900
---