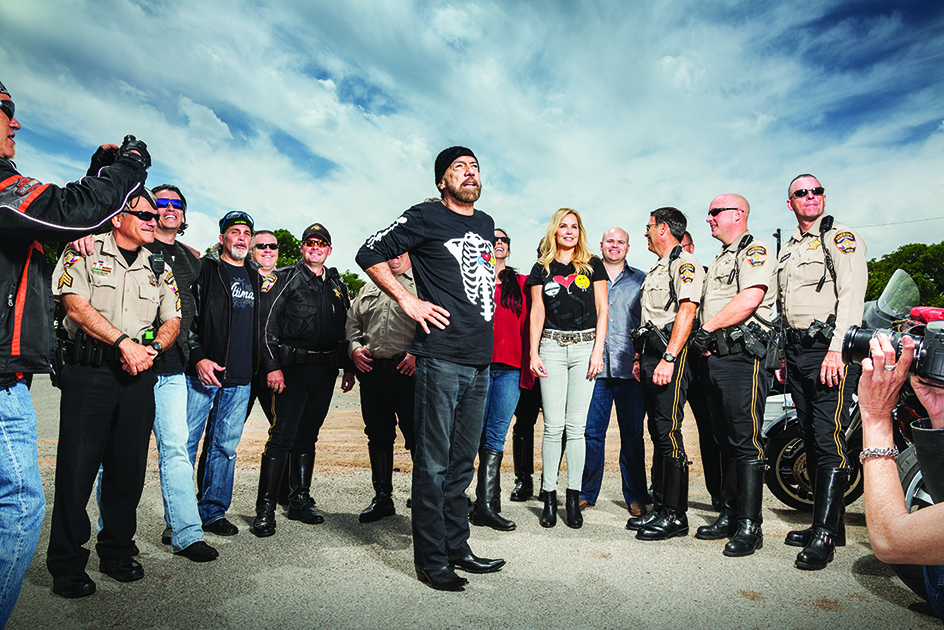 John Paul DeJoria has made a fortune in shampoo and tequila, but giving back is what's important to him. He opens up about his annual Peace*Love*Happiness charity ride and why he loves hitting the open road in Texas. (Photo credit: Jeff Wilson)

By Marianne Dougherty, Photos by Jeff Wilson
From Ride Texas, Autumn 2015:

To celebrate his birthday every April, John Paul DeJoria, co-founder of hair care company Paul Mitchell and the ultra-premium Patrón Tequila, takes part in the Peace*Love*Happiness Charity Motorcycle Ride in Austin, the city he calls home these days. The event, which was co-founded by DeJoria and longtime friend and riding buddy Gary Spellman, co-founder of Ultimate Face Cosmetics, came about quite by accident. In 2002 the two bikers were riding through the Texas Hill Country and decided to stop at Poodie's Hilltop Roadhouse in Spicewood, where they heard an Austin police officer being criticized for risking his life to save another. Right then and there, they decided to do something to support the families of fallen police officers as well as abused or neglected children. Since then the event has raised hundreds of thousands of dollars for the 100 Club of Central Texas, which provides support for law enforcement officers and their families when tragedy strikes; the Austin Children's Shelter; and global causes such as the Waterkeeper Alliance.
The star-studded weekend celebrates the best things about Austin: music, food, miles of scenic roads, and community. A free concert gets the party started on Friday night. Last April, Los Lobos and Los Lonely Boys performed on Austin City Limits. Then on Saturday, those who donated $1,000 or more took part in a VIP ride that has attracted such stars as Peter Fonda and Robbie Knievel. It's become so popular that you have to RSVP by mid-February to secure a spot. This year, VIPs were invited to meet at Cowboy Harley-Davidson by 9 a.m. for the annual Rock-n-Roll Breakfast Party. No Harley? No problem: the dealership will rent you one for the afternoon. At 11 a.m. the bikers hit the road, stopping only to have lunch at Verdes Mexican Parrilla, three miles west of Texas Highway 71, before heading back to the Harley dealership by mid-afternoon. The 55-mile ride into the Texas Hill Country, led by DeJoria and Spellman, takes place on Sunday and is open to anyone.
DeJoria's life is truly a Horatio Alger story. In fact, in 2004 the Horatio Alger Association of Distinguished Americans inducted him as a lifetime member in honor of his inspirational story. A born entrepreneur, he was raised by a single mother in the Echo Park neighborhood of Los Angeles. In 1953, when he was just nine years old, he began selling Christmas cards and newspapers to help support the family. He joined the U.S. Navy right out of high school and served with honor, yet when he came home in 1964 he struggled to make ends meet, pumping gas and selling encyclopedias for Collier's. Things began looking up in 1966 when Collier's named him Man of the Year for being the company's top salesman. Then in 1971 while working as a district sales manager for Redken, a professional hair care company, DeJoria met Paul Mitchell, a charismatic hairdresser from Scotland, at a trade show in Miami. The two became fast friends.
"In 1979 Paul tried to introduce a small line of products called PM, which he sold onstage," says DeJoria, who thought that the products could probably be better, considering how much Mitchell was paying to have them made. "I realized that Paul wasn't a businessman, but I had no money, so in 1981 we agreed to form a partnership. He'd do hair and shows, and I'd do sales and marketing, and we'd each own 30 percent of our company." The remaining 40 percent was earmarked for an investor, who pulled out at the last minute, leaving DeJoria and Mitchell in the lurch. DeJoria decided that he and Mitchell should bankroll the company themselves. "I'd already quit my job and literally had nowhere to live," he says. They cobbled together $700, enough to place a sample order for 10,000 bottles of shampoo and conditioner. Meanwhile, DeJoria was sleeping in his car and selling products out of the trunk. "I went to Sherman Oaks and Encino knocking on salon doors, while Paul went back to Hawaii to show stylists there how to use our products." The company was just starting to take off when Mitchell died of pancreatic cancer in 1989.
That same year, DeJoria founded the Patrón Spirits Company with business partner Martin Crowley, and by 1991 he was featured on Lifestyles of the Rich and Famous with actor James Brolin. For DeJoria at least, that lifestyle included using his considerable clout to make a difference, and in 1998 he met the Dalai Lama in Los Angeles to exchange ideas on world peace. A hippie at heart, he agreed to cut off his signature ponytail to raise $50,000 for the Red Cross tsunami relief efforts in 2005. By 2006 he had become a patron of the Mineseeker Foundation, joining Nelson Mandela, Brad Pitt, and Richard Branson to help eliminate land mines throughout Africa. Then in 2011, he signed the Giving Pledge, which Warren Buffett and Bill and Melinda Gates launched in 2010 to encourage billionaires to give away at least half their wealth either in their lifetimes or through their estates. None of this is surprising if you know DeJoria, who lives by this credo: Success unshared is failure.
Closer to home, DeJoria has established JP's Peace, Love and Happiness Foundation, which is based in Austin and supports half a dozen or more local charities. One of them is Mobile Loaves & Fishes, a first-of-its-kind housing model for 250 people to live in community while learning and sharing job skills through a farm program. "It's the best thing I've ever done with my money," DeJoria has said. SafePlace, a shelter for survivors of intimate-partner abuse, reached out to him to support a clinic that will serve hundreds of women each year—Eloise House opened this summer. It is named for his wife of 22 years, the former Eloise Broady, a native of Houston.
When in Austin, DeJoria takes to the open road at least once a week, weather permitting. "Riding in Texas is so special because just outside of Austin are all these open country roads," he says. "The countryside is so beautiful here." While DeJoria admits that he likes to ride alone, more often than not you'll see him in the company of Gary Spellman, who was the doorman at the legendary Candy Store in Newport, Rhode Island—a favorite haunt of America's Cup contenders Ted Turner and Dennis Conner—when he met DeJoria more than 25 years ago. The longtime friends have been to Sturgis, South Dakota, a number of times, but their favorite rides in and around Austin seem to involve food. Spellman ticks off a couple of them, including Hamilton Pool Road to Verde's Mexican Parrilla, and Texas Highway 71 to Poodie's Hilltop Roadhouse in Spicewood for some good food and live music (the Hilltop has hosted such music legends as Willie Nelson, Jerry Jeff Walker, and Toby Keith). Then he remembers that they also love to stop at the Salt Lick while they're in Driftwood for some world-renowned barbecue. The owners claim that their recipes date back to the 1800s, when wagon trains passing through stopped so passengers could savor the delicious barbecue around the campfire.
DeJoria's ride of choice is a Harley-Davidson Thunder Mountain Custom. "I happen to like the sound, feel, and quality of American-made products," he says. "A Harley is versatile enough to customize so you can have a special individualized bike."
Custom motorcycle manufacturer and former CEO of West Coast Choppers Jesse James is married to DeJoria's daughter Alexis. He not only built a custom motorcycle for her, but he's also working on a custom bike for DeJoria, though it will take a couple of years to complete. "It's a special project, and he's absolutely the best. Plus, he's really taking his time because I'm his father-in-law," says DeJoria with a laugh. "He continues to build in between manufacturing custom-made pistols and rifles that are exceptional and really cool."
While DeJoria tends to take short jaunts around Austin, he does have one long-distance ride under his belt. "It started in Livingston, Montana, and wound through Yellowstone National Park," he says. "We went through Wyoming, back into Montana, and then continued through Beartooth Pass, eventually ending up in Sturgis, South Dakota. It's about a 750-mile ride, and it took two days to get there." That ride was featured on the Travel Channel more than 50 times in 2004, the year DeJoria was inducted into the Sturgis Motorcycle Museum & Hall of Fame. In 2009, he and Eloise rode a restored 1938 Indian with a sidecar in the Legends Ride at Deadwood, then made a surprise donation of $10,000 to two Black Hills charities before giving the bike to the Motorcycle Museum. "Bikers make the planet a better place to live for everybody," he said to the receptive crowd that day.
On August 3, DeJoria was in Sturgis for the 75th Annual Motorcycle Rally. He placed one of his spectacular one-of-a-kind motorcycles on charitybuzz.com and autographed it in Sturgis, where the top bidder was invited to enjoy the festivities with him. "We led the Legends Ride in Deadwood, the Navy Seal tribute ride, and other exciting events," DeJoria says. "If you ever see us there, please say hello."