Old #9 Comfort to Fredericksburg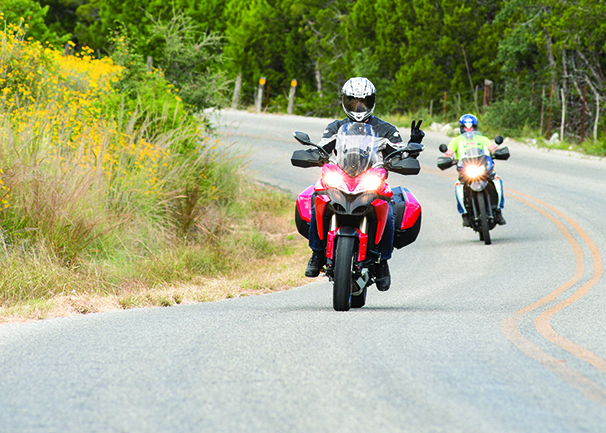 Story by Tom Wiley | Photos by Miguel Asensio
Many Texas motorcyclists abhor interstates and other major highways.
They relish riding not only the back roads, but the way back roads. Such a thread of asphalt runs across Kendall and Gillespie Counties in Central Texas. It is often referred to as the Old #9 Highway, although sections of the route wear other names — Old Fred Road, Old San Antonio Road. To discover this Hill Country jewel on a map or your Where In the Hell Am I? app of a smartphone, locate Ranch Road 473 exiting east from Comfort, Texas, and you should find Old #9. Despite the name changes, it's a continuous road running 20 miles north to its intersection with US Highway 290, just east of Fredericksburg.
German settlers in Texas in the 1800s were especially ambitious folks. After claiming their homesteads, they quickly established roads to nearby markets. Old #9 was one such road. Many ranch, farm, and county roads favored by motorcyclists today follow those same historic paths.
Since Old #9 is a scant five miles from Comfort, let's begin in that charming small town. If your past experiences in Comfort were to simply ride through and gas up on the main highway, you've missed a hidden gem. City blocks on either side of Texas Highway 27 are lined with historic homes and tree-shaded parks and greenbelts. High Street is especially fun, with several cafes and shops. Numerous bed-and-breakfast inns are available.
Don't let the label "highway" fool you. Old #9 is a cruiser's road. Although there are plenty of sharp curves begging to be ridden hard, they often hide blind spots, low water crossings, and narrow bridges. Critters and rubbernecking cagers are common. So, throttle back and enjoy the scenery. You'll catch on quick!
Old #9 begins by following Polecat Springs Creek for a few miles, allowing it to cross from one side to the next. This will be repeated with other creeks. Imagine when this was a primitive rocky road. Freight wagons pulled by teams of oxen or mules would be seen struggling up steep grades. The slightest rain would turn the path into a river of mud and make streams unfordable. It took as long as ten days to travel 75 miles to San Antonio.
About eight miles into the ride, the road makes a steep climb towards a hill adorned with an observation tower. A brown information sign alerts us that Old Tunnel State Park is ahead, a chance to stretch our legs. The story of this, one of only six railroad tunnels built in Texas, is quite extraordinary. In the late 1800s, Fredericksburg found itself growing, yet completely cut off from the state's railroad boom. The area's topography was seen as too challenging and too costly to make such a rail connection profitable.
After 25 years of plots and plans, funding was scraped together to begin the project in 1913. Two hundred fifty men were paid fifty cents to labor for a twelve-hour day, six days a week. Their greatest obstacle was "The Big Hill." A 920-foot tunnel had to be dynamited and chiseled through the hard limestone with hand-operated drills. The tunnel was never internally braced, so, once rail service began, crews had to stop at the entrances and remove large rocks from the tracks. After 29 years, costs continued to override profits, and rail operations ceased.
If you haven't noticed, Texas has gone batty over bats! Old Tunnel State Park is a perfect place to get in on that experience. The park is open for day use year-round. A series of information kiosks near the parking lot describe the bats and the location. A steep trail descends to the abandoned railroad tunnel. But, the action heats up evenings from May to October. Texas Parks and Wildlife Division estimates that the tunnel is home to over three million bats during that period. The bats emerge in a counter-clockwise spiral on their nightly quest to devour over 25 tons of moths and insects. Viewing from the upper observation area is free and open any evening. Arrive early enough Thursdays through Sundays and you can take advantage of the park's up-close-and-personal educational sessions at the lower viewing area. Seating is limited and there is an exact fee, so visit the Old Tunnel website or call (866) 978-2287 for specific instructions.
After that hike in the park, you may be hungry. That's great, since one of the best hamburgers in the state is just around the corner on Alamo Road. Expanding on a Kevin Costner movie theme, Alamo Springs Cafe is an example of how a small house in the absolute middle-of-nowhere can succeed as a restaurant. "Build a better burger, and they will come!" If it's a weekend, make sure to arrive early. Might we suggest Jefe's Challenge — a hamburger with six patties and six slices of cheese, accompanied by the usual mountain of fries. Your cardiologist will love you!
Old #9 Highway winds through lovely hills of spindly oaks, patches of lavender, and stands of peach trees. Mother Nature has blessed some ranchers with plots of rich soil void of the usual rocks. It seems correct to guess that most of the land you'll pass has been in the same family hands for many generations, judging by the lack of development. There are a few newer, modern homes, but many classic Hill Country houses remain. About ten miles into the ride, a majestic two-story house stands and oversees groomed fields. There is no marker detailing its age, but it possesses a strong German flair for using huge limestone blocks in construction and has wraparound porches on both floors. Farther on, a historical marker on the left describes an existing rough-cut limestone house begun in 1857 and the family who built it. Barns and outbuildings of weathered wood are quite old. The road passes sections of hand-laid stone walls, another German tradition.
Keep a sharp eye out for the former Grapetown school on your right. Grapetown was a stage stop, and this one-room school was built in 1884. Sixteen rural school buildings such as this still exist in Gillespie County. Learn more about them at the Pioneer Museum in Fredericksburg.
Our scenic county ride terminates at the Pedernales River at US 290. Besides just being a beautiful adventure, Old #9 is special because of its proximity to other Hill Country favorites. Grapetown Road and Luckenbach-Cain City Road both spin off to Ranch Road 1376 and Luckenbach, where everyone is someone. In addition to Comfort on the south end of Old #9, you'll find equally fun rides to Waring, Boerne, Sisterdale and Kendalia. Fredericksburg is on US 290, as is a continuous line of wineries stretching all the way to Johnson City. Sometimes, small is better. The Old #9 Highway is certainly evidence of that!
Eat, Stay, Do
COMFORT
Chamber of Commerce
comfort-texas.com
High's Cafe & Store
726 High St
830-995-4995
highscafeandstore.com
FREDERICKSBURG
Chamber of Commerce
fredericksburg-texas.com
Convention & Visitor Bureau
Online Guide
fredericksburgtexas-online.com
Alamo Springs Cafe
107 Alamo Rd
830-990-8004
alamospringscafe.com/menu.pdf
FREDERICKSBURG (continued)
Historic Rural Schools Tour
historicschools.org
Includes Grapetown School on Old San Antonio Rd.
Old Tunnel State Park
10619 Old San Antonio Rd
866-978-2287
tpwd.state.tx.us/state-parks/old-tunnel
Pioneer Museum
325 W Main St
830-990-8441
LUCKENBACH
General Information
luckenbachtexas.com