Motorcycle Missions Runs Its First Builder Show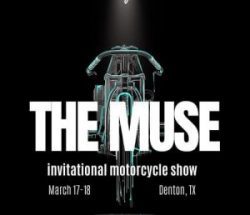 Motorcycle Missions hosts its first builder show: The Muse Invitational Motorcycle Show, March 17-18, 2023.
The Muse Invitational Motorcycle Show is a passing of the baton from the Denton Invitational Motorcycle Show (DIMS) to Motorcycle Missions. DIMS, a true homegrown builder show, enjoyed five successful years and a faithful following before going on hiatus due to the Covid-19 pandemic. This transition is also the result of a long friendship between the organizations' founders. DIMS founder Kacey Close and Motorcycle Missions founder Krystal Hess met in 2016 at The Handbuilt Motorcycle Show in Austin, Texas.
With ongoing support from Close and Sean Ziegler, Hess says she is thrilled and honored to bring Motorcycle Missions flare to the show while remaining true to DIM's grassroots spirit and motorcycle community. Continuing with tradition, Haas Moto Museum will showcase several custom bikes at The Muse, including the veteran-built "Porterfield" by Motorcycle Missions.
Motorcycle Missions, a 501(c)3 non-profit organization, has won awards at show after show with team-built motorcycles produced by their program to support veterans and first responders with PTSD. A Motorcycle Missions team won the "King of the Builders" award at the 2018 J&P Cycles Ultimate Builder Custom Bike Show and, more recently, the J&P Cycles People's Choice award in 2021.
The Muse Invitational Motorcycle Show premieres March 17th from 5:00 to 10:00 p.m. and March 18th from 9:00 a.m. to 9:00 p.m. Location: Greater Denton Arts Council, 400 E Hickory St, Denton, TX.
Admission is free and open to the public.