Finally, Summer 2020 is on the way!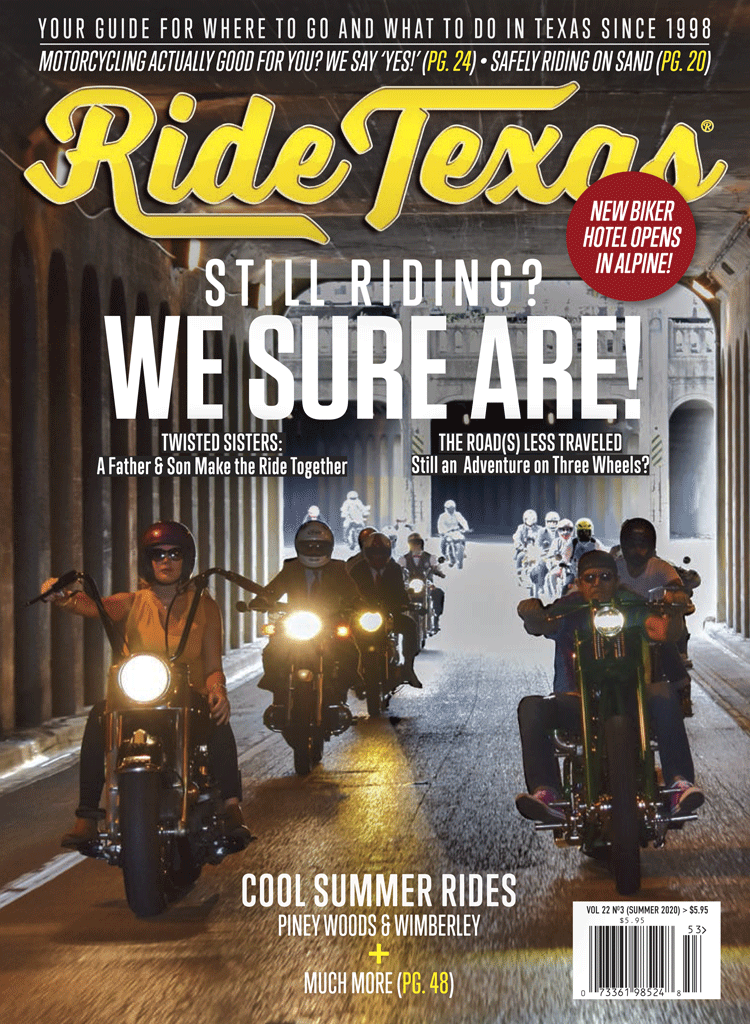 Yes, the Summer issue of Ride Texas is arriving in your mailbox a month late. Yes, it is also a little bit thinner than usual. The Coronavirus pandemic affects every part of our lives today, and the magazine didn't escape its impact.
We still think motorcycle riding is an excellent social distancing activity. In this issue, we have an article on why getting out on your bike is beneficial. We still advise you to take proper precautions and make wise choices.
Ride Texas is all about events. In this issue's "On the Horizon" feature, we have lots of suggestions for activities and destinations, but we have one idea to recommend, confirm the status before you depart. While putting this issue's calendar together, we found that many events listed had to cancel or got postponed until 2021. These were rallies and rides that we had already included. Things are changing rapidly.
Despite the turmoil the COVID crisis has created; we are pleased to report several new businesses servicing the motorcycle community have opened up recently. The most exciting of those is the new Big Bend Biker Hotel in Alpine. We preview the new accommodations designed with motorcycle travelers in mind in the Texas Business feature plus a couple of new shops and a rental service born in Texas.
We are still riding! If you're out there with us, be smart about it and be safe.
PS: If you're wondering, the cover shot is of Rick Fairless and his daughter Lena leading a pack of riders through an underpass at the 2019 Distinguished Gentlemans Ride.