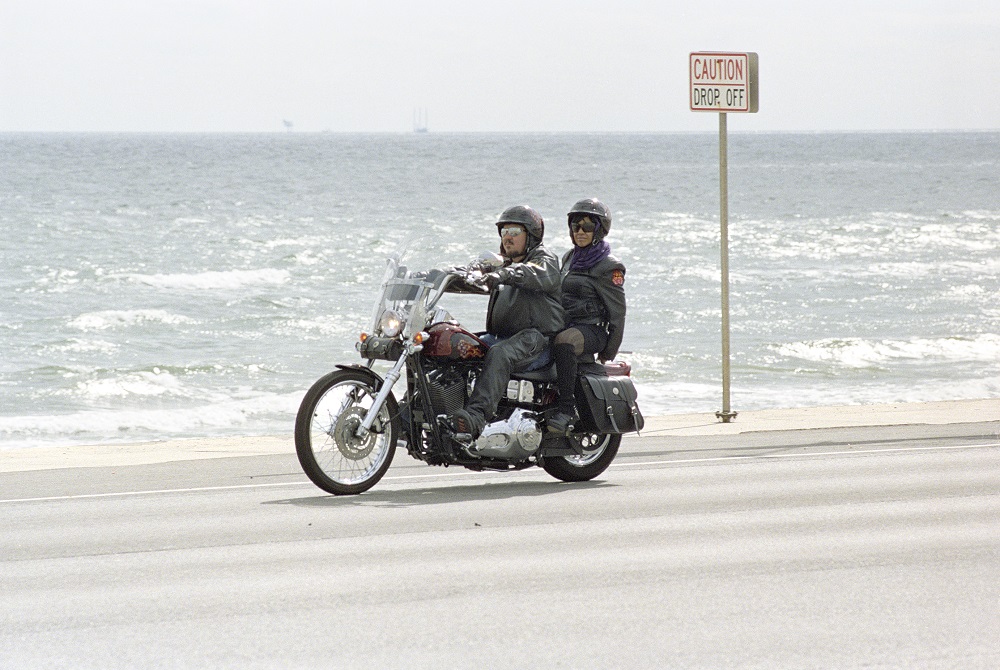 Photo Credit: Miguel Asensio
Get into that Jimmy Buffett frame-of-mind on this ride along the Texas Gulf Coast. There are several historic structures in the small ranching town of Refugio. Our Lady of Refuge Catholic Church, completed in 1901, is on the site where a two-hundred-year old mission once stood. Stretch your legs, visit with anglers, and do some nature study at Copano Bay State Fishing Pier and Goose Island State Park. Rockport has become an important arts destination in the state and celebrates several events each year. Charlotte Plummer's Restaurant joins a long list of seafood eateries in Rockport. Winter is the time to catch a charter boat out of Rockport to the whooping crane sanctuaries. With a fleet of shrimp boats nearby, it's a no-brainer
that Aransas Pass would have great seafood choices, such as Redfish Willie's, also known for wonderful waterfront views. Ride the free ferry to Port Aransas, as always guided by fast swimming dolphins. "Funk" rules in Port A, so don't be dissuaded by the appearance of many small eateries; they tend to sell the freshest off-the-boat seafood. Corpus Christi is capital of the Coastal Bend. The U.S.S. Lexington and the Texas State Aquarium are premier tourist stops, but thunder comes to town each October when BikeFest arrives.
ALONG THE WAY
ARANSAS PASS
REDFISH WILLIE'S WATERFRONT GRILL
322 Huff St.
361-758-9991
redfishwilies.com
CORPUS CHRISTI
CORPUS CHRISTI BIKEFEST
956-668-7484
ccbikefest.com
Early October
TEXAS STATE AQUARIUM
2710 N. Shoreline Blvd.
800-477-GULF
texasstateaquarium.org
ROCKPORT-FULTON
CHARLOTTE PLUMMER'S
SEAFARE RESTAURANT
202 N. Fulton Beach Rd.
361-729-1185
charlotteplummers.com
COPANO BAY
STATE FISHING PIER
TX Hwy. 35 at Copano Bay
ULTON MANSION
HISTORIC SITE
317 Fulton Beach Rd.
361-729-0386
thc.texas.gov/historic-sites/
fulton-mansion-statehistoric-
site
GOOSE ISLAND STATE PARK
202 S. Palmetto St.
361-729-2858
tpwd.texas.gov/state-parks/
goose-island
ROCKPORT ART FESTIVAL
Rockport Center for the Arts
902 Navigation Cir.
361-729-5519
Early July
ROCKPORT BIRDING AND
KAYAK ADVENTURES
216 N. Fulton Beach Rd.
(Fulton Harbor)
877-892-4737; 361-727-0643
whoopingcranetours.com

(Map Credit: mapping specialists)
On The Road
Pit Stops
1. TEXAS STAR
CONVENIENCE STORE
2728 Agnes St.
Corpus Christi
361-882-3311
2. SHELL
719 Refugio Hwy.
Refugio
361-526-5007
Grab a Bite
1. BLACKBEARD'S
ON THE BEACH
3117 Surfside Blvd.
Corpus Christi
361-884-1030
blackbeards.restaurant
2. SHEMPY'S GRILL
3911 Hwy. 35 S.
Rockport
361-727-0019
Stay The Night
1. THE LIGHTHOUSE INN
AT ARANSAS BAY
200 S. Fulton Beach Rd.
Rockport
866-790-8439
lighthousetexas.com
Diversions
1. LIGHTHOUSE LAKES
PADDLING TRAIL
Port Aransas Causeway,
Trailhead on north side of road
before ferry landing.
tpwd.texas.gov
2. HORSES ON THE BEACH
16562 SPID Park Rd. 22
The Island in Corpus Christi,
North Padre Island (do not use
GPS to find)
361-949-4944
horsesonthebeachcorpus.com
Only In Texas
1. GREAT TEXAS COASTAL
BIRDING TRAIL
Various sites
tpwd.texas.gov/huntwild/
wildlife/wildlife-trails/coastal