The Eyes Have it – ADS Sports Eyewear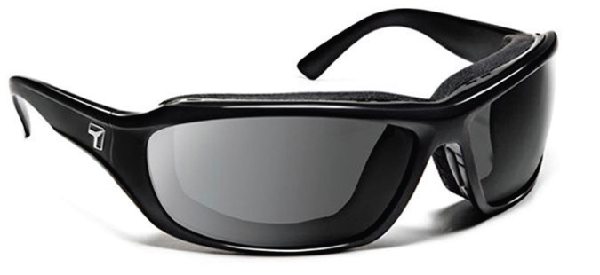 Wearing wraparound sunglasses while riding affords a panoramic field of view perfect for watching scenery fly by, and more importantly, keeping an eye out for potentially hazardous side traffic. Until recently, wraparounds, or wraps, have been available only to wearers with normal 20/20 vision or folks with a very limited-strength prescription. The reason has been the difficulty in fabricating complex multi-curved lens surfaces that properly pre-bend light rays before entering the eye. Precision software-controlled lens cutting machines have since been developed with microscopic points that create wrap lenses with a near perfect prescription from any viewing angle. These lenses are commonly known as Digital Free-Form lenses.
I recently tested a pair of Digital Free-Form prescription sunglasses obtained from Texas firm ADS Sports Eyewear and was thrilled at the clarity of my peripheral vision. I chose the black Panoptx/7Eye Derby polarized glasses from the ADS website, adseyewear.com, for the style and the removable wind seal, but there are dozens of other styles and colors to choose from. Riders take note that polarized lenses can cause weird colorations through helmet visors and windscreens, but with these essentially wind-proof glasses, visors are not really needed.
I give this product a big thumbs up!
by Wayne Roth