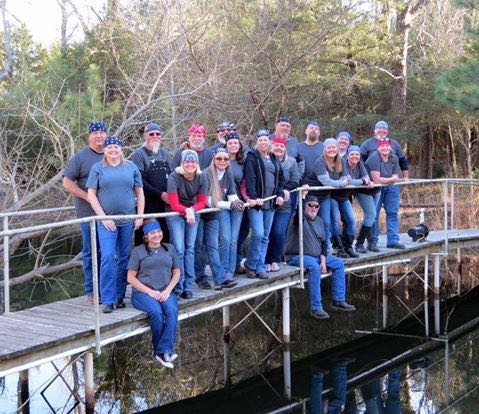 By: Mia Davis
Some motorcyclists own big bikes, make big noises, and ride in big groups. They also have big hearts. Meet the Benefit Riders of East Texas, a 30-plus member group of motorcyclists who come together for a common cause: helping others.
Benefit Riders of East Texas (BRET for short) has held many events to raise money for those in need. One of its largest events is "Christmas in July," a benefit for the Norville Children's Home, in Kaufman, Texas. BRET's other events include "Beat the Heat," where water bottles and fans are collected for the elderly and others in need, and "Donuts with Dad," an event that got started when a young boy got a surprise visit from "biker dads" since his stepfather couldn't make a school event.
The BRET bikers also help individuals. The group raised more than $15,000 to help with teenager Jonathan Stovall's medical bills. When Stovall, who had been diagnosed with stage four Primary Synovial Pulmonary Sarcoma, passed away, his family asked that BRET members ride him to his final resting place. Draped over his casket were items given to him by BRET and other bikers, including vests, helmets, a T-shirt, and photos. The ceremony was very moving for the community and for Stovall's family.
Here, Sheila Browning, marketing director of the Benefit Riders of East Texas, answers questions about the organization's roots and endeavors.
      Q. How did BRET begin?
      A. The organization started as a Facebook bikers group page about seven years ago. It grew quickly—it currently has more than 6,000 members and is still growing. I personally got involved about four years ago. Our first big event was the Jonathan Stovall event, and it escalated from there. In 2017, we were officially recognized as a nonprofit.
      Q. What are the most fulfilling aspects of being part of the organization for its members?
      A. Helping people. In some instances, we have kept individuals from going bankrupt. There was one lady in particular—she had back issues and needed surgery on her spine. Unfortunately, her surgery led to infection, and she was in the hospital for two months. When something like that happens, it's easy to fall behind on the mortgage and other survival costs. We did a benefit for her and raised four thousand dollars. It was amazing—the fact that we are able to help needy people out of bad situations. If we see a need, we respond quickly.
      Q. Do you have a favorite story about the Benefit Riders that you'd like to share?
      A. Chris Lombardo had cancer and eventually was let go from his job. We contacted him and asked if we could host a fundraiser. We successfully raised around $3,500. Over the next several months, Chris declined dramatically and he eventually passed. One of his last wishes was that the Benefit Riders ride him to his final resting place and rumble in his honor. He even requested that we "shut down traffic"—he had a good sense of humor. When we pulled up in formation at the cemetery, someone gave the signal, then bam! We revved our bikes as hard as we could. His mother was laughing through her tears! Seeing that does something to your heart.
      Q. Do you have any tips for motorcyclists who want to create their own charitable organization?
      A. It's a little bit of a process, logistically—you have to qualify as a nonprofit group, register for a logo, etc. Other ways to get involved are by forming an informal club or starting a social media group. Surrounding yourself with like-minded individuals who have different talents is key. Just do it!
BRET is planning its third annual Toy Run in November 2018. The group hopes to surpass last year's earnings of $2,500 and to collect more than 200 toys.
 For more information, contact Sheila Browning at (903) 805-1816, or go to facebook.com/Benefitridersofeasttexas.